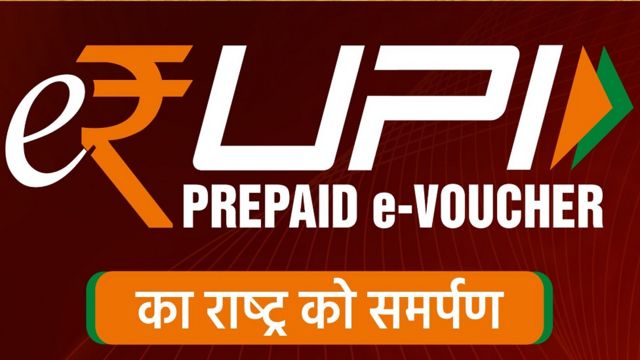 e-RUPI – The Prime Minister of India Mr. Modi has launched a new digital payment mode called "eRUPI". eRUP is a completely new form of UPI transaction. This new payment model works like a gift voucher. If you have already used Sodexo coupons, then eRUPI can be said to be an updated version of the same. It will continue to be used for specific purposes such as direct to beneficiaries.
What is e-RUPI
e-RUPI service is a kind of prepaid voucher service, with the help of which the money of the schemes is sent directly from the bank to the beneficiaries account. This means if the government of India sends e-RUPI vouchers to fill LPG, then only gas cylinders can be filled with those issued vouchers. After the implementation of this service, the money will not be sent to the beneficiaries in the form of cash. The eR UPI voucher will be sent to the beneficiary through QR code or SMS-based e-voucher.
How e-RUPI will work
e-R UPI vouchers will be issued throughout 11 banks across the country. This is a prepaid voucher that will act as a demand draft. Once the voucher is issued, an e-RUPI voucher will be issued to the beneficiary through a QR code and SMS. QR code and SMS. eRUPI voucher will be issued to an individual only once.
No need for a bank account
There is no need for a bank account for beneficiaries to use eRUPI voucher. Beneficiaries will be able to access this service without a digital card, digital payment app, and internet banking service.
The money of the schemes will not be used wrongly
eRUPI vouchers can be issued for a specific purpose like vaccines and medicines by the GOI. It cannot be misused.
Service will be available soon in eRUPI
The eRUPI scheme will be linked with the eRUPI card more quickly, which will help in reaching government and corporate schemes to more and more people.
Why e-RUPI is needed
The new payment system will help to cut down the commission system by the middle man and also control the hand-to-hand cash flow system. It will help the poor and needy people. The government will directly help in expanding monetary support.
How e-RUPI will be issued
The government will issue the e-RUPI vouchers for the Welfare Service Scheme. Under the scheme, child welfare schemes, TV eradication programs, drugs, and diagnostic schemes like Ayushman Bharat Pradhan Mantri Jan Arogya Yojana can be enjoyed.
Anyone can issue an e-RUPI voucher
Anyone can issue an e-RUPI voucher. For example, a private company can issue e-RUPI vouchers to its employees for services such as healthcare, education, or travel.
Which bank will issue e-RUPI
e-RUPI vouchers will be issued by 11 banks. Some banks will be able to issue e-RUPI vouchers but will not be able to accept them. Major banks like State Bank of India, ICICI Bank, HDFC Bank, Punjab National Bank, and other banks will be able to issue e-RUPI vouchers as well as redeem them to these banks.
SBI, HDFC Bank, Punjab National Bank, ICICI Bank, Axis Bank, and Bank of Baroda will be able to fully support e-RUPI cards.
Canara Bank, IndusInd Bank, Indian Bank, Kotak Bank, and Union Bank of India cannot issue e-vouchers.
Who created e-RUPI
The Digital payment ecosystem e-RUPI has been launched in collaboration with the National Payment Corporation of India (NPCI) as well as the Department of Financial Services (DFS), National Health Authority (NHA), Ministry of Health, and Family Welfare (MOHFW). It has been launched in association with the State Bank of India (SBI), Punjab National Bank (PNB), HDFC Bank, and ICICI Bank.
Apple WWDC 2021 Keynote HighlightsJune 8, 2021Artificial Intelligence v/s Machine LearningFebruary 26, 2019OnePlus Nord Launched Check out the price and specificationsJuly 21, 2020
Summary
Article Name
e-RUPI a new UPI mode launched by PM Modi
Description
e-RUPI, new UPI mode launched. See What is eRUPI? Why e-RUPI is needed? Which bank will issue eRUPI, How it works, who will get the benifits
Author